For the 2017 holiday season, Caring Ministries partnered with local churches and individuals give away nearly a thousand holiday boxes to families in need. 
It was a beautiful day. The Monday before Thanksgiving a team of volunteers – regulars, neighbors, and first-timers – gathered to prepare boxes of food and supplies to give away. The annual tradition continues to grow. With generous support from local groceries there were nearly 800 turkeys, pallets of squash, fresh bread, cans of vegetables, baking supplies, spices, and more to pack up. For those with less this Thanksgiving would be overflowing.
As the afternoon sun warmed the line forming outside the gate the group was making final preparations, organizing tables and assigning roles, unstacking boxes, and pulling out turkey after frozen turkey. With a prayer we were ready to begin and the gates were opened. In little more than an hour much of the food was gone, and empty turkey boxes lay flattened on empty pallets. Many people were headed home to unpack their holiday boxes and maybe even begin to prepare a meal.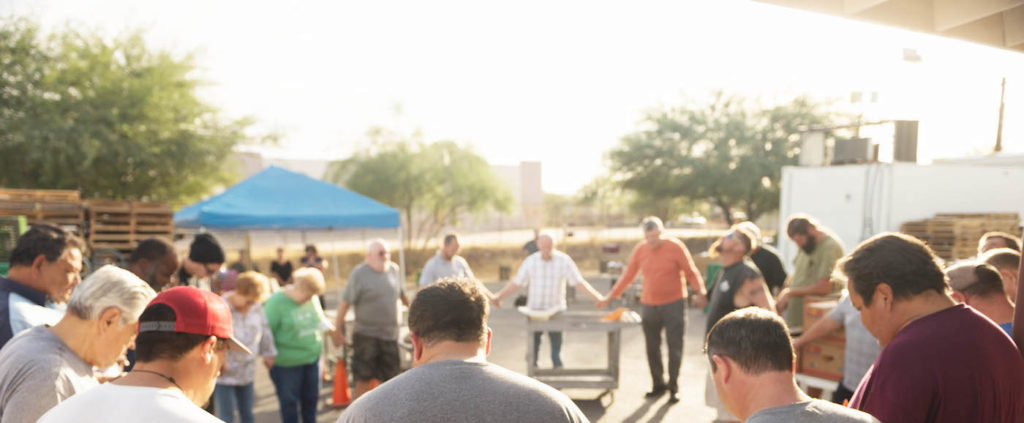 We have seen the impact of these holiday boxes in our community each year. They provide hope, joy, dignity, life, smiles, full bellies, and family traditions. During a day when we stop to give thanks for what we have, the greatest joy for us was blessing others. We gave away over 800 special holiday food boxes this year.
For the second year Walmart provided some of the food needed for the holiday boxes at a discounted price. We are grateful for their partnership and support to our community. The Southern Arizona Food Bank, and our grocery partners provided the rest of the food and supplies – including drinks and flowers to make the holiday a little extra special.
It was a great day for the families receiving the food as well as those serving. For many volunteers the day was already a tradition, an essential part of their thanksgiving. For some volunteering for the first time it was a surprisingly joyful way to begin the holidays.
"…remember the words of the Lord Jesus, how he himself said, 'It is more blessed to give than to receive.'" —Acts 20:35
—
Join us this next holiday season. With your support in person or donations we hope to be able to bless more families again next year. Check back for details on the holiday giving days and how to give to the Holiday Campaign.